Cables & Wires
A cable can be defined as a set of wires or optical fibers intertwined together in a protective covering, which is generally made of high quality plastic or rubber. The image shows all the internal parts of the cable. The innermost part of the cable is known as the core (central strength member), which is usually 10 micrometer in diameter. The core is surrounded by a fiber buffer tube. Above the fiber buffer tube there is a peripheral sheath made of Aramid yarn. The outermost covering of the cable is made of polymer.

A single strand of metal commonly cylindrical in shape is called a wire. Electrical Wires are generally used for carrying electricity. Wire by material includes different types of wires and cables made up of copper, aluminum, silver, gold, titanium, brass, steel, tungsten, bronze, nickel and teflon.

According to the Integer Research Company the total revenue of the global connectors industry was estimated at approximately $40 billion and the cables and wires industry was US$140 billion in 2006. In the global cable industry the top cable manufacturers and wire suppliers for cables, wires and connectors are CommScope, Draka, General Cable, Belden Inc. The main reason behind the increase in revenues is a rise in the prices of raw materials like copper, aluminum and polymer. The rising electronics market, improved speed and other features in existing cable products, and shorter product life cycles are factors that will drive the market growth in future. Thus on the whole analysts believe that the cables and wire industry is on a boom and the surge will continue in the years to come.

Information on various products like cable assembly, cable connectors, wire cable connectors, cabling products, cable products, coaxial cables, fiber optic cables, twisted pair cables, audio and video cables, electrical wires, electrical wire cable, networking cables, extension cables, cable clips is given in this section along with details of cable manufacturers, wire manufacturers, wire suppliers, wire wholesale, cable wholesale is also included.


Cable accessories are those products, which are used to install cable in a specified location or connecting it to the source of power. Many products are used with cables for purposes like fitting, clamping and attaching a cable can also be termed as cable accessories. The materials used in making cable accessories are polymer, glass, copper, aluminum etc. One should always buy connectors that are properly crimped to the cables and do not break while installation. The accessories should always be of very high quality material.
» Cable Assembly | » Cable Connectors | » Cabling Products
Cables can be differentiated on the basis of technology being used in making them. According to this differentiation there are coaxial cables, fiber optic cables and twisted pair cables. The various materials used in making these cables are copper, aluminum, pure glass and plastic. Among these three types the fiber optic technology is new and is gaining more and more popularity due to its great carrying capacity and its affordable price. The coaxial and twisted pair cables are still widely used across the world. While buying these cables people always look for the cable design and the connector type.
» Coaxial Cables | » Fiber Optic Cables | » Twisted Pair Cables
Cables can be used for a variety of purposes like for connecting audio and video systems, connecting computers, carrying and transmitting electricity, connecting telecommunication equipment and also as extension cords. Thus they can easily categorized on the basis of their usage as audio-video cables, computer cables, extension cables, electrical wire and telecommunication cables. These cables are made of copper, aluminum, plastic, bronze, nickel and teflon. Cables that are shielded are considered better as they ensure that there is minimum signal loss due electromagnetic radiation.
» Audio & Video Cables | » Computer Cables | » Electrical Wire | » Extension Cables | » Power Cables | » Telecommunication Cables
Industry Publications
Processing Magazine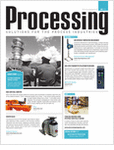 Is recognized across the process industries as the leading source for up-to-date product and equipment solutions.

Publisher : Grand View Media Group