Software
From an automobile to supercomputers, mobile phones to computer games, business to security, or even health industry, software products are everywhere today. A software is a set of computer programs, instructions and documentation given to an operating system to perform specific tasks. It converts raw, complex data to useful information used for various purposes such as computing, analyzing and communicating. The instructions for any computer software are written in various programming languages like Java, C, C++, COBOL, LISP and Visual Basic. The instructions are loaded in to the computer's storage system (hard drive, memory or RAM) and then executed.

The wholesale software industry has recently evolved as one of the most promising industry in the global arena. The market of software products is continuously growing, and convergence of information, increased computer usage is fueling its growth. Only those computer software manufacturers and software vendors will be successful who are able to adapt their technologies to the changing dynamics of the software industry. USA, India, Russia and Canada are the largest computer software manufacturers, software vendors and software suppliers in the world. Microsoft, IBM, Oracle, SAP and Computer Associates International are the top software vendors in the global software industry. The global market for software products development is worth US$180 billion and the largest marketplace for software products development are USA, Canada, India, China, Germany and Austria.

Based on the applications, software products are broadly classified as: communication software, industrial software. Other popular segments of software products are business software, security software, gaming software and medical software.
The term communication software refers to the programs that are used to exchange messages in text, audio and video format for the purpose of communication and also allows a computer to communicate with other machines through a modem or telephone line. This kind of software deals with representation, transferring, interpretation, manipulation and processing of data. The communication software allows computers in different geographical regions to communicate with each other through mails or by transferring data files and documents. Communication software can be broadly categorized as telecommunications software and networking software. Telecommunication software are used for devices like cellular phones, walkie-talkie etc. The various types of telecommunication software are: bluetooth software, call processing software, computer telephony software and cell phone software. Networking software are of many types depending upon the applications such as:
» Networking Software | » Telecommunication Software
Industrial software are software programs that are used in various industries such as consumer electronics industry, audio and video, education, health, multimedia and design, security etc. These industries use such software to aid them in proper planning of work and remote monitoring. The use of these programs considerably reduces cost, reduces manpower requirement and lessens the possibility of human error. The different types of industrial software can be classified on the basis of their use in various industries as:
» Artificial Intelligence Software | » Audio & Video Software | » Business Software | » Developer Tools | » Education Software | » Health Software | » Multimedia & Design Software | » Operating Systems & Server Software | » Product Drivers | » Security Software | » Software Utilities | » Web Based Software
Industry Publications
Broadband Properties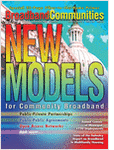 Is is the leading source of information on digital and broadband technologies for buildings and communities.

Publisher : Broadband Properties LLC